3rd October 1914
The 15th Brigade rested during the day, concealing themselves from enemy spotter planes. At 6pm the Dorsets paraded and marched about 12 miles to Corcy in the West.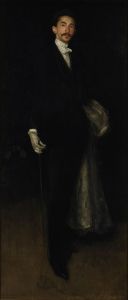 Gleichen spends the day in bed with a cold. He gets driven to Longpont where he finds lodgings in the château attached to the ruined abbey at Longpont with Comte de Montesquiou-Fezensac, "a courteous and frail old gentleman". I'm not sure Gleichen would have stayed had he known the outlandish history of his host.
This old gentleman was almost certainly Robert de Montesquiou-Fezensac. He is worth dwelling on for a little while. The archetypal dandy, he counted Proust among his friends and was "the world's most laborious sayer of nothing" according to Gustave Kahn.
His wikipedia entry had me laughing out loud. It includes such chestnuts as "he reportedly once slept with the great actress Sarah Bernhardt, after which he vomited for twenty-four hours" and "his poetry has been called untranslatable, and was poorly received by critics at the time."
In 1901, in what became known as the Moberly–Jourdain incident, two prominent British female academics claimed to have had supernatural experiences while walking near the Palace of Versailles. They reported having seen people from the 1790s, including Marie Antoinette. These "ghosts" were possibly Robert de Montesquiou-Fezensac and his friends who frequently held parties in that area dressed in period costumes.