13th November 1914
13. Field Service Post Card to Miss Crawshaw, 29 Strathleven Road, date stamped 18 No 14 – message dated 13.11.14 Multiple choice card on which sender could delete inappropriate phrases and sign (Frank) and date.

Undeleted message reads "I am quite well. I have received your letter. Letter follows at first opportunity".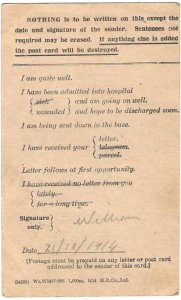 Today's post is something of an anomoly as we get another missive right after Frank has written a letter. This is one of those multiple choice postcards beloved of bureaucratic institutions. In times of great hurry, you simply crossed out the bits that weren't relevant with a pencil and stuffed it on the post. It was called the Field Service Post Card or, more grandly, Army Form A2042. Here's one filled out from a post on The Great War Forum. I did see a joke one somewhere but I can't for the life of me remember where it was. The Wipers Times is the probable source.
---
The Dorsets endured more shelling throughout the day. In the evening D Company was assigned to the Royal Engineers for digging duties. Later on, at 10.55pm to be precise, B Company was ordered to move to a new position south west of Point 63 to be easy for digging at daylight. I'll update the map tomorrow. According to the diary 2 men were killed and one wounded. The CWCG lists just one man, or should I say boy:  Harold Mead. He was just 16 years old. See the comments below for more discussion on his age.
---
And,so, back to yesterday's letter…
Yes I expect it is alright on that records, yes I know the song well, we did have a good reception when we arrived in France but we have had some bad times since, and lots of these fellows you can hear singing have gone since then worse luck.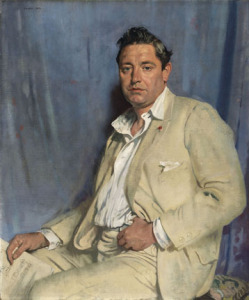 Mabel must have asked Frank whether he knew a particular song. Was there a record of the troops singing released in Britain? Or was this just a popular song sung by the troops on the march? At the moment I am not sure. This could have been something popular like "It's a Long Way to Tipperary" sung by John McCormack or an early version of "Keep the Home Fires Burning". This article explores the music that was played at The Royal Albert Hall. Land of Hope and Glory was sung there in October, sung by Clara Butt and conducted by Elgar himself in front of the King and Queen. They must have swung the crosses off of the Union Jack that evening, by Jingo.
I'm putting in a photo of a 1923 painting of an incredibly louche John McCormack because you can never have too much William Orpen in my opinion.
Wallie is working in the City I bet he fancy his luck a what. So Muff received my letter alright I have not heard from there since and I have forgot the address, don't forget to remember me to them all, and let me have their address and also Toms I have not heard from him yet. Have answered your Bert's letter, but have not received the cigarettes yet buck him up. How is Ciss going and did she receive my PC have not heard from her since. Glad to know that all are in the pink at home and that Uncle Matt has got plenty of work, how is Albert still doing the Tango remember me to him and tell him I will drink his health when I see him which I hope will be soon. I have just has two letters from Jess she has been ill this last two or three weeks but am glad to hear that she is getting on alright now.
We rattle through the usual gang. He's forgotten Muff's address and we're still asking after the mysterious Tom. There's my great grandfather mentioned by name this time – Frank has christened him Bert and is still teasing Maud about him. Ciss is probably his sitter Doris, or it could be Caroline, his aunt, as she's married to the next in line, Uncle Mattie, Matthew Webster. Albert doing the tango could be another cousin, Albert Webster, son of Herbert Webster and his wife Mary. Albert is 11 so I am not sure about this. I've never toasted an eleven year old. But then again Frank likes a drink so he could toast anyone – or anything after a Red Biddy or two. Jess hasn't been well but infuriatingly there's no more information about her identity.
I'm off for a tango.